We are very proud of our St. Joseph the Worker Catholic Primary school community; the high standards achieved, and the wide range of interesting opportunities offered.
The school strives to provide a safe, secure, stimulating and Christian environment in which all children feel happy and valued as individuals, and where they can learn and play to the best of their abilities. The school considers the relationship with the children's home to be vital in achieving this.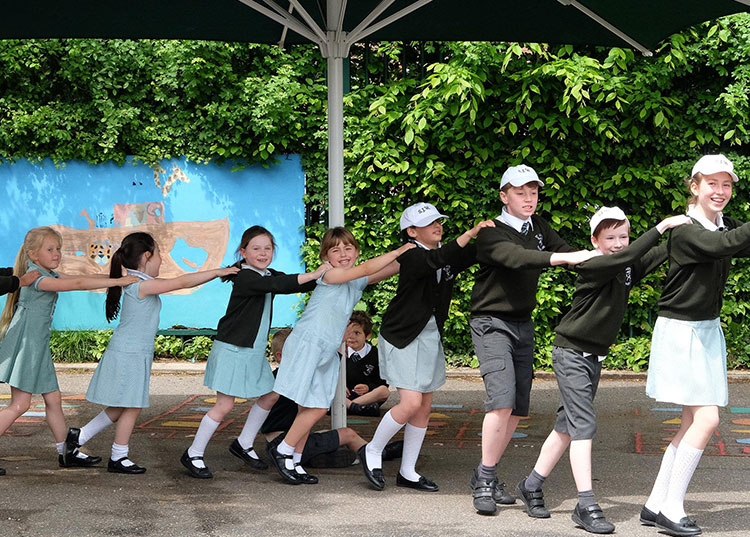 Mission statement
The school Mission Statement sets out its aim as a Catholic School in the 21st Century.
"With Jesus, we learn; we care; we listen; we share; so that He might be seen in the people that we are and the things that we do".
School Chaplain
But what better way to explain what makes the school special than to listen to it's pupils!
In September 2018, St Joseph the Worker Catholic Primary School introduced the role of School Chaplain. A Year 6 boy and girl were voted by their peers to take on this role, nurturing the spiritual lives of the school community.
In the article below, one of the Chaplains, writes about his experience this year…
Do you want to know what it is like to be a Chaplain at St. Joseph the Worker Roman Catholic Primary School? Well let me tell you…
You have multiple duties to complete each week like introducing and concluding Friday assemblies along with choosing an appropriate prayer for that week. If there is a special religious occasion, for example Lent, Advent or the Christingle service, Sophie and I needed complete activities appropriate to the occasion. For example, lighting candles and following traditional procedures.
In addition, we needed to show important religious members of our Catholic community around the school at Miss Rossiter's or Father Leslie's request.
Personally, I have really enjoyed being a school Chaplain this academic year and I am disappointed that my role has been cut short due to Covid-19. My highlights have been choosing the weekly prayer and constructing the large Christingle during the Christingle mass.
I would recommend this role to a confident person who is not put off by standing in front of people and speaking aloud to groups of people.
I would like to thank class 6 for voting me into this role.
School Reflections
The Rosary
It was lovely for us and the children to pray the Rosary with parents who were able to attend our church this week. Thank you to Fr. Leslie and Mrs. Giles for preparing the children for this devotion to Our Lady in her dedicated month of October
And a lovely picture to sum it all up
Hetty is a pupil at our school, in Class 3 at St. Josephs. Her sister Nina is a pupil at the school too and she is also an altar server at the church. Hetty comes to Mass with her Mother and Father.
The picture below is inspired by the welcome the whole family receives at church and the love her family have for attending Mass.