The Catholic church of St. Joseph The Worker, Hutton was consecrated by the Right Reverend Patrick J Casey, Bishop of Brentwood, on Friday 30 April 1976.
Adjacent to the church there is an excellent Catholic Primary School.
The Parish is renowned for being a loving, friendly and caring community.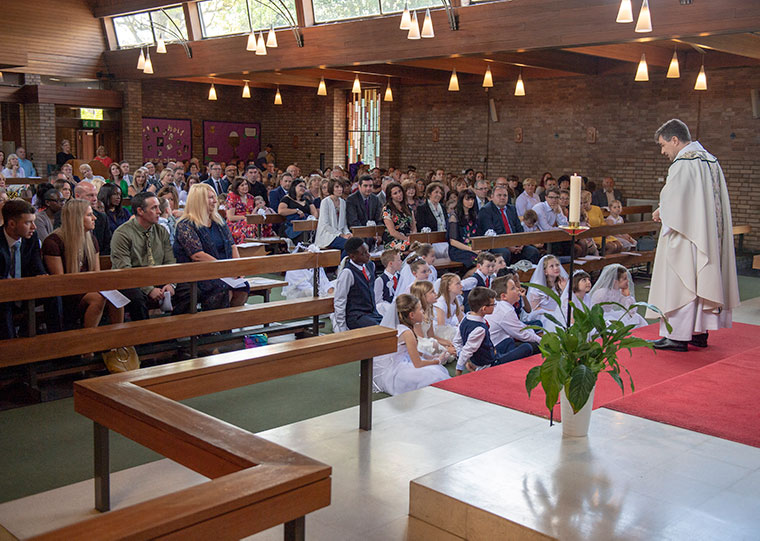 COVID-19 Advice
Welcome back to Mass at St. Josephs
We are currently running two Masses:
Saturday vigil Mass at 6.00pm.
Sunday at 10.30am.
Measures are in place to facilitate social distancing inside the Church.
You will not need "to book" to come to Mass, however inevitably social distancing measures will limit numbers.
Advice
A face mask is mandatory.
All toilets will be closed.
There will be only one entrance to the Church, please use the main door by the crucifix, it will be clearly marked Entrance Only. Please do not enter by any other door.
You will be required to hand sanitise when you enter the Church
Seating during Mass
As in a restaurant, when you come to Mass, you will have to wait to be seated by one of the stewards in order to ensure social distancing and that all people are seated in an orderly fashion. You will not be able to sit wherever you please.
It is important therefore that you come to Mass in very good time in order that you can be seated and that Mass can start promptly. Latecomers will have to wait until an appropriate moment during the Mass to be seated in order to minimise disruption if there is room in the church.
In all these matters, we ask for your respectful cooperation with the stewards.
Exiting the Church
After Mass, you will only be able to exit by the door to the left of the Narthex, it will be clearly marked Exit Only
Please hand sanitise as you leave the Church.
All the measures that we are putting in place will be continually assessed and reviewed.
For up to date information please visit our Facebook page or email us.
PLEASE BE AWARE
These circumstances are unprecedented, and we appreciate your understanding and patience as we work hard to ensure the safety of all people who will gather again in the presence of Jesus.
THANK YOU
Fr. Leslie would like to thank all those who have volunteered to be stewards. However, we are still urgently looking for volunteers to join a rota so that we can continue to have a Sunday morning Mass. If you are considering volunteering, you should be 18 - 69, in good health and any members of your household should also be consulted.